The Clarity Elixir
WelleCo Australia
SKU:
TCLARE60CAU
An adaptogenic and herbal blend that supports mental clarity and memory recall.
Always read the label and follow the directions for use.
Realise your cognitive potential with The Clarity Elixir, an adaptogenic and herbal blend that supports memory, mental concentration and clarity. Rhodiola, brahmi and Korean ginseng offer a mental refresh to empower you into a state of learning. Regroup and refocus with two capsules daily of The Clarity Elixir. Master your beauty-through-wellness journey with The Clarity Elixir.
+ Maintains brain function and health.
+ Supports mental and physical endurance and stamina.
+ Helps maintain energy levels and vitality.
+ Supports mental concentration, focus and clarity.
+ Supports memory and mental recall.
Recommended adult dosage: two capsules daily with food. We recommend taking the capsules with breakfast or lunch however, they can be taken at any time of the day that suits your routine.
Please consult your Primary Healthcare Professional such as your GP, Naturopath or Nutritionist, if you are unsure, have any underlying health conditions or are on pharmaceutical medication, as they can advise on what's right for you.
WARNINGS
Always read the label and follow the direction for use. If symptoms persist, consult your healthcare professional.
Vitamin and mineral supplements should not replace a balanced diet.
Supplements should not replace a balanced diet.
Contains sulphites.
Pregnancy & Breastfeeding: The Clarity Elixir is not recommended for use while pregnant or breastfeeding or breastfeeding, due to inclusion of botanical extracts.
Store below 25ºC in a cool, dry place away from sunlight. Do not use if carton or lid seal is missing or broken.
Foundational WelleCo products (The Super Elixir, Nourishing Protein & Sleep Welle Tea) can be taken, and are encouraged to be consumed, alongside one another. Based on your individual needs the remaining Elixirs in our WelleCo range may be suitable to be taken alongside each other. Please reach out to our Customer Service Team for any support in your supplementary routine.
Each capsule contains: Each capsule contains: Rhodiola (Rhodiola rosea root extract 85.71 mg) equiv. (min) dry root (contains std. rosavin 2.57 mg) 857.1 mg, Water Hyssop [Brahmi] (Bacopa monnieri whole plant extract 131.58 mg) equiv. (min) dry whole plant (contains std. bacosides calculated as bacoside A 65.79 mg) 2.5 g, Korean Ginseng (Panax ginseng root extract 25 mg) equiv. dry root 250 mg, Vitamin B5 (pantothenic acid from calcium pantothenate) 10 mg, Vitamin B6 (pyridoxine from pyridoxine hydrochloride) 3 mg, Vitamin B12 (cyanocobalamin) 10 micrograms, Zinc (from zinc amino acid chelate) 1.5 mg, Acetyl levocarnitine hydrochloride 25 mg, Tyrosine 50 mg.
Proudly formulated and manufactured in Australia. We source only the finest quality local and imported ingredients from our trusted suppliers.
No added gluten, egg, dairy, lactose, soy, and nuts. No artificial flavours, colours, or sweeteners. No GMO.
9

premium ingredients

0

artificial colours & flavours

$2.2

cost per serve
Just one serving a day helps support...

Mental Concentration

Adaptogen rhodiola helps the body adapt to stress and supports cognitive and mental function, along with mental recall and memory.

Memory

Adaptogen rhodiola, brahmi, vitamin B12 and Acetyl L-Carnitine support mental recall.

Brain Health

Brahmi is traditionally used in Ayurvedic medicine as a nerve tonic and later became known as a brain tonic.
Hear from our WelleCommunity
"This elixir helps me start my day on the right note. I feel energized and focused; I'm ready to take on the day!"
Shana C.
Verified Buyer
"I feel more balanced, rested & clear. Great experience with this product."
Eleanor W.
Verified Buyer
"It helps my mind focus on different tasks throughout the day."
Raluca M.
Verified Buyer
The easiest addition to a healthy routine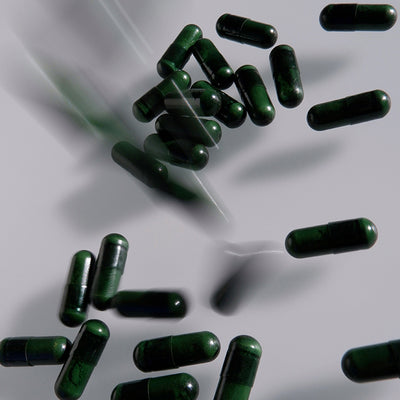 For just about anybody
The Clarity Elixir has been formulated for adults. For teen use, consult your Primary Healthcare Professional.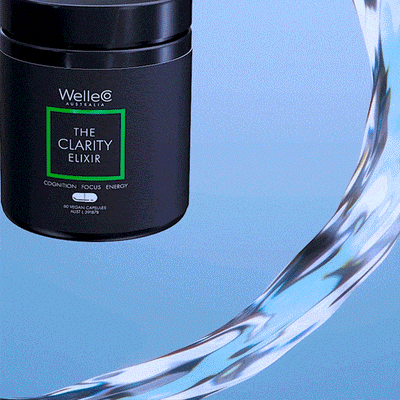 Once a day, every day
Gluten, dairy and sugar-free, non-GMO and vegan-friendly, The Clarity Elixir is best taken at breakfast or lunch.
Key Ingredients
A 9-ingredient formulation containing a combination of botanical extracts, B vitamins, tyrosine and carnitine.
Rhodiola
WHAT IT IS:
Rhodiola (Rhodiola rosea) is a plant that grows in cold parts of Europe and Asia. The root has a long history of use in traditional medicine. Its roots are considered adaptogens, meaning they help your body adapt to stress when consumed.
BENEFITS:
Its root contains more than 140 active ingredients, with the two most potent being rosavin and salidroside. Rhodiola can be used to help reduce symptoms of fatigue, stress and may imrpove brain function and exercise performance.
Brahmi
WHAT IT IS:
Brahmi is best known for its long and impressive history of use for enhancing intellect and mental acuity, it also soothes the nervous system, purifies the blood, and promotes healthy skin and hair with it's powerful blend of antioxidants.
BENEFITS:
Brahmi has been used by Ayurvedic medical practitioners for centuries for a variety of purposes, including improving memory and reducing inflammation. Research shows that it may boost brain function and may alleviate anxiety and stress, among other benefits.
Korean Ginseng
WHAT IT IS:
Korean Ginseng is a plant root traditionally used for its adaptogenic properties.
BENEFITS:
Korean Ginseng is often used to help support energy levels, vitality, memory, and physical performance.
Vitamin B6
WHAT IT IS:
Vitamin B6, or pyridoxine, is a water-soluble vitamin found naturally in many foods, as well as added to foods and supplements. It is one of eight B vitamins that your body needs to stay healthy.
BENEFITS:
This nutrient is an essential part of nearly 200 chemical reactions in your body, and it's necessary for processes like brain development and transporting oxygen through your bloodstream. Vitamin B6 also helps you maintain a healthy nervous and immune system.
Tyrosine
WHAT IT IS:
Tyrosine is a popular dietary supplement used to improve alertness, attention and focus. It produces important brain chemicals that help nerve cells communicate and may even regulate mood.
BENEFITS:
The main benefits of Tyrosine are related to its ability to replenish catecholamine levels in the brain, which can become depleted under stressful conditions. Multiple studies have demonstrated that it can help to prevent declined cognitive function under stressful, cognitively demanding conditions.
From the founder
"I've learnt that your mind is a naturally beautiful instrument and, much like your skin or hair, it requires a well-rounded routine to thrive; a 'mindcare' routine that works to refine your own beautiful mind daily. The Clarity Elixir creates that nutrient-rich ecosystem in which your own beautifully natural mind can flourish and, with it, so can your life."
- Elle Macpherson
Total 5 star reviews: 28
Total 4 star reviews: 3
Total 3 star reviews: 2
Total 2 star reviews: 0
Total 1 star reviews: 0
94%
would recommend these products
Reviewing

The Clarity Elixir

60 capsules

Feeling better

It's been about ten days and I do think it's helped a lot especially with stress and anxiety feeling more alert

Reviewing

The Clarity Elixir

60 capsules

A life gamechanger/saver

I was skeptical whether this would work. Within 2 days I felt like the 'younger' me. I had focus, energy and drive again. I've been taking this for nearly a month now and feel so great. I'm about to start the super elixir. I was even contemplating buying this as a Christmas present for my sisters and friends it's been so transformative for me! I'm not a gusher normally - but this is now a critical part of my daily routine and am amazed at what an amazing impact it's had on me and my body, within such a short space of time! ❤️

Reviewing

Big Energy Pack

Big Energy Pack

Feeling healthy

I have been using this for a week now . I already feel so much better and people are saying comments like you look so healthy what are you doing .

Alexandra L.

Verified Buyer

Reviewing

The Clarity Elixir

60 capsules

Great energy boost

Easy to take, no flavour and my whole body appreciates the product.

Reviewing

The Clarity Elixir

60 capsules

Highly recommend

Since taking clarity Elixir I have less Brain fog
Reviews Loaded
Reviews Added