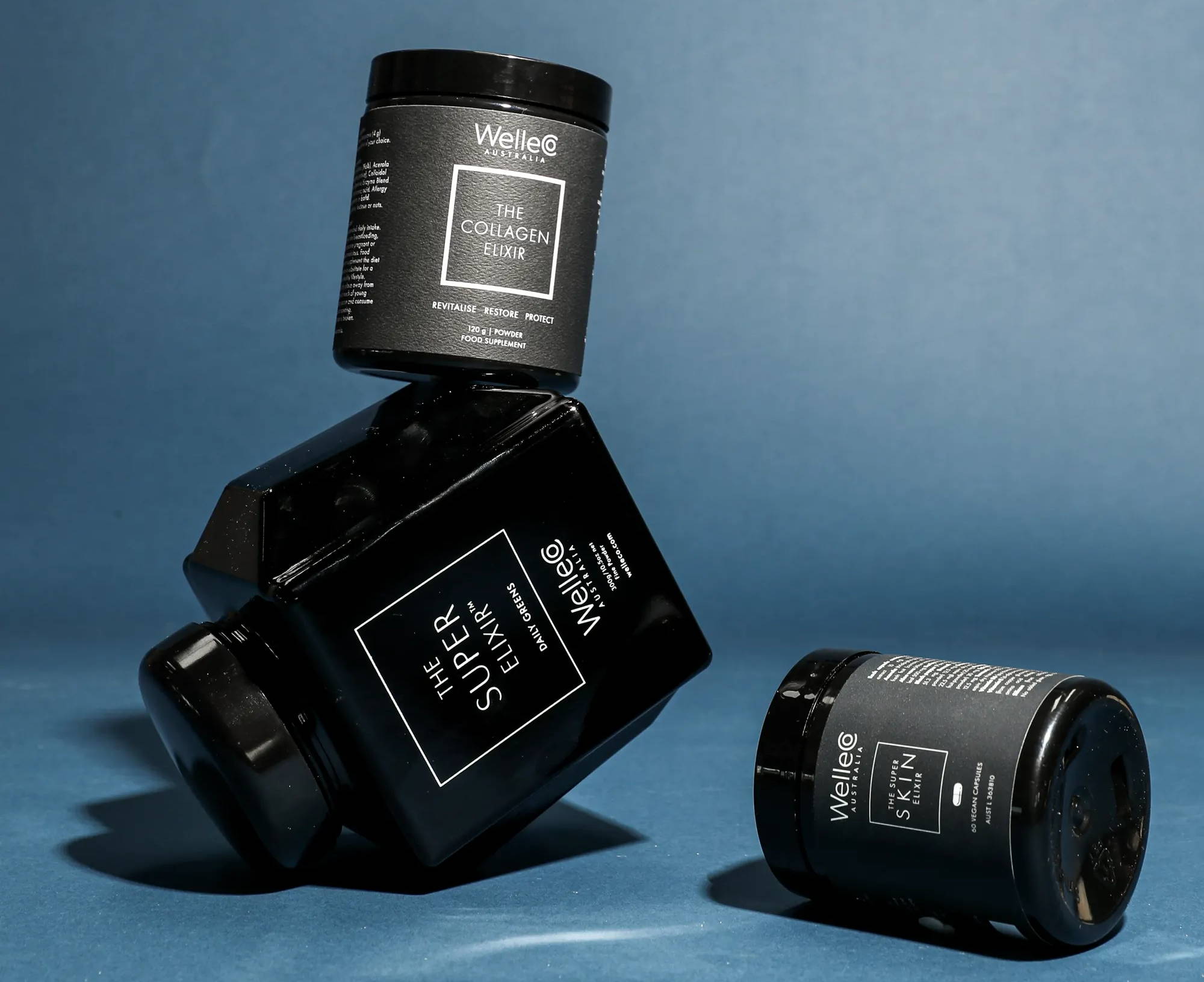 Here's a shortcut to finding your new favourite
Exciting news – WelleCo's premium ingestible beauty collection is growing, as we formulate innovative new solutions that offer you even more options to Welle your way.  
While you can rest assured that each formula is designed to nourish your beauty-through-wellness from soul to skin, we're now making it easier to help you decide which WelleCo beauty solution is right for you.  
If you're looking for a shortcut to find your new favourite ingestible beauty support, we've broken down the incredible benefits of each WelleCo supplement.
Foundational WelleCo products (The Super Elixir, Nourishing Protein & Sleep Welle Tea) can be taken, and are encouraged to be consumed, alongside one another. Based on your individual needs the remaining Elixirs in our WelleCo range may be suitable to be taken alongside each other. Please reach out to our Customer Service Team for any support in your supplementary routine.
Please consult your Primary Healthcare Professional such as your GP, Naturopath or Nutritionist, if you are unsure, have any underlying health conditions or are on pharmaceutical medication, as they can advise on what's right for you.
For Thicker, Stronger, Healthier Hair: The Hair Elixir
These powerful vegan capsules contain a potent blend of proven ingredients to promote hair growth. The Hair Elixir thickens, strengthens, and nourishes right down to the follicles to minimise hair loss and reduce breakage, while encouraging the formation of keratin and boosting your body with powerful minerals and adaptogens to fast-track growth.
For Firm, Hydrated Skin, Strong Nails and Healthy Hair: The Collagen Elixir
The Collagen Elixir is WelleCo's new supercharged powder that contains the highest dose of collagen from wild-caught fish, without the fishy taste. The Collagen Elixir targets skin hydration, skin firmness and elasticity,as well as healthy hair and nails. The unique pink colour of The Collagen Elixir is attributed to the natural Beetroot in the formula, but the fine powder is unflavoured and can be conveniently dissolved in any hot or cold beverages.
For Targeted, Nourishing Skin Support: The Skin Elixir
The Skin Elixir is our convenient, on-the-go capsules inspired by our best-selling premium greens formula, specificallyformulated to target the skin. Each capsule contains powerful greens that nourish the skin, support skin healing and regeneration, help to reduce free radicals formed in the body and encourage clear, healthy skin. 
For A Strong, Healthy Body: Nourishing Protein
Our clean, lean organic pea protein supports your body during a workout and gives your body an energy boost, without uncomfortable bloating. WelleCo's NourishingProtein also helps to balance blood sugar levels, meaning you'll be craving less of those sugary snacks that wreak havoc on your moods, digestive system and skin. 
The All-In-One: The Super Elixir™
It's not called Super for nothing! Our iconic super greens powder, The Super Elixir™ contains 40+ ingredients that help to support all 11 systems of the body – from your immune and digestive systems to your hair, skin and nails.Two teaspoons in water are all you need to ensure yourbody is getting all the nourishing goodness of premium nutritional greens, for clear skin, more energy, improved digestion and stronger hair and nails. 
For Healthy Hormone Balance: The PMS Elixir
Give your body the support and care that it needs through every phase of your cycle with The PMS Elixir, WelleCo's new capsules designed to bring harmony to your body. Just two capsules each day will help to balance your hormones throughout the month, with powerful ingredients to relieve the symptoms of PMS – bloating, mood swings, headaches, breast tenderness and mild fluid retention – as well as assisting with sugar and carbohydrate metabolism.
For Support and Empowerment During All The Stages of Menopause: The Goddess Elixir
The Goddess Elixir capsules support your journey through menopause by providing vitality, balance and clarity in every phase of your body's wonderous regenerative process. Revitalise your core feminine from the inside and replenish your passion for life with our proven blend of red clover, vitex and Siberian ginseng, while nurturing your inner calm with magnesium and hops. Take just 2 capsules daily to relieve the symptoms of menopause, including hot flushes and night sweats, support your vitality and drive and help to maintain your healthy nervous system and mood balance.
For Healthy Immune System Support: The Immune Elixir
Boost your body's natural defence with The Immune Elixir. Formulated for pre-emptive and reactive effectiveness, this powerhouse blend of zinc, natural vitamin C, astragalus, olive leaf, elderberry and reishi mushroom helps support a healthy immune system and relieve symptoms of the common cold. Take two capsules daily to support a healthy stress response in the body and to relieve weariness and fatigue. Plant-based nourishment for you to thrive all year-round.
For A Calm Mind: The Calm Elixir
Support your nervous system function and restore inner alignment with The Calm Elixir. Masterfully formulated to contain the wonder herb lemon balm, magnesium, passionflower and ashwagandha, this elixir relieves symptoms of mild anxiety, supporting a healthy stress response and healthy mood balance within the body. Discover your zen with The Calm Elixir.
For A Focused Mind: The Clarity Elixir
Realise your cognitive potential with The Clarity Elixir, an adaptogenic and herbal blend that supports memory, mental concentration and clarity. Rhodiola, brahmi and Korean ginseng offer a mental refresh to empower you into a state of learning. Regroup and refocus with two capsules daily.