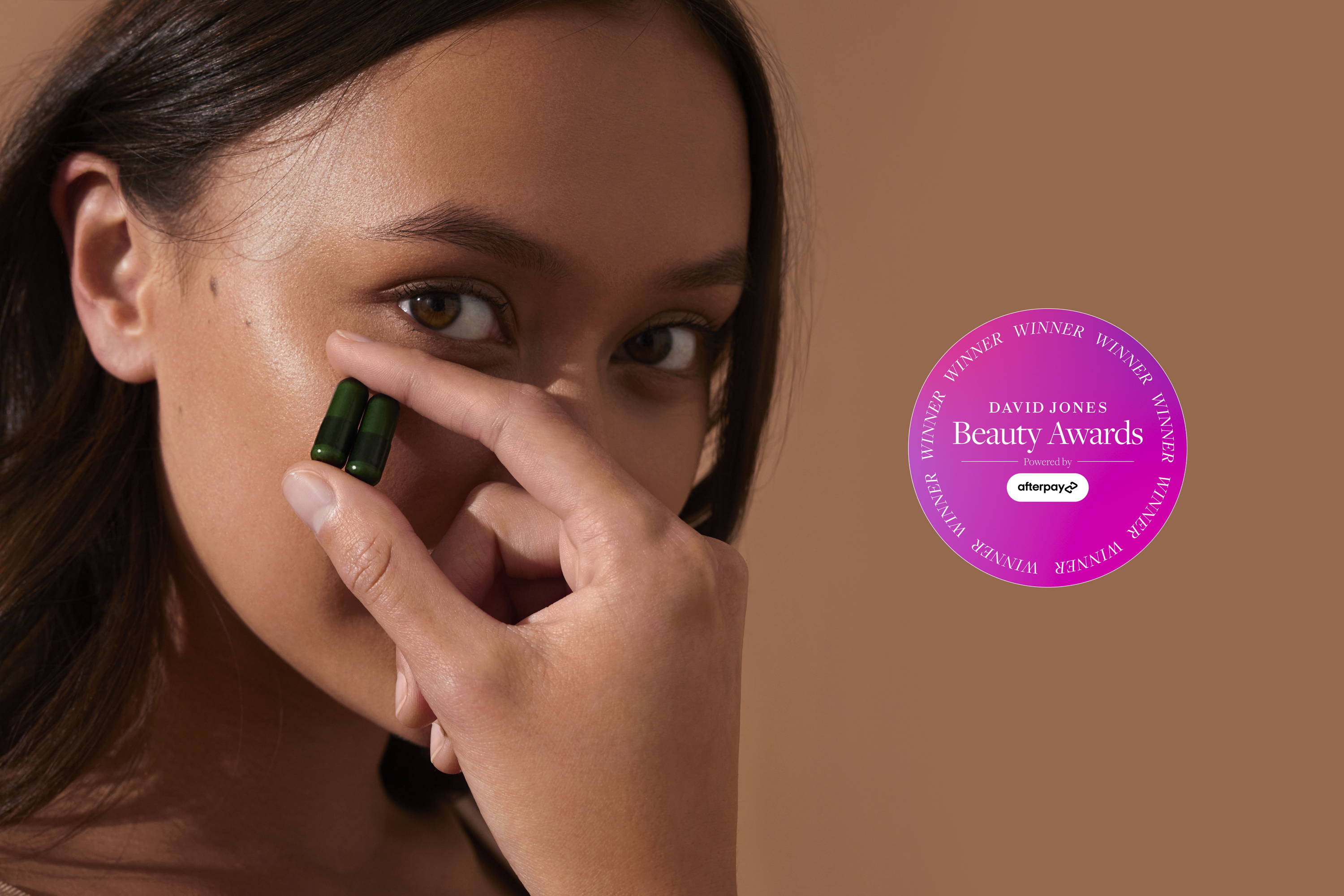 Our number one ingestible glow-getter receives number one in esteemed awards.

As a company synonymous with innovation (pioneering the entire ingestible beauty category back in 2014 is caseinpoint), we are thrilled to announce our recent accolade, winner in the Best in Inner Health category at the 2022 David Jones Beauty Awards.
"We are over the moon here at WelleCo to win the Inner Health category at the 2022 David Jones Beauty Awards," says founder Elle Macpherson. "This level of recognition truly reinforces our belief that beauty begins from within, which is the foundation of WelleCo, and it motivates us in everything we do."
Judged by an expert panel in the fifth edition of The David Jones Beauty Awards, and voted by the public, WelleCo was the category winner out of a total of five nominees.
"I have been taking two (capsules of The Skin Elixir) every morning and love the vegan-friendly combination of antioxidant-rich green tea and a multitude of fruit and veg. A great skin treat from the inside out," says Ingrid Seaburn, skincare expert and judge.
WelleCo would like to thank both the panel of expert judges and the WelleCommunity for their votes, and ongoing support, in this significant skin win.

"The Skin Elixir was inspired by our very own WelleCommunity, who told us they wanted a solution for healthy, glowing skin. Supporting collagen formation, skin firmness, elasticity, healing and regeneration, The Skin Elixir is an all-in-one stand-out that proves it's on the inside that counts." says WelleCo founder, Elle Macpherson.
WelleCo develop all our products out of the belief that being well and thriving in life contributes to the greater good of our entire world. This award is proof that it's what's on the inside that counts.
The Skin Elixir is a powerful vegan capsule that goes deep. Consider the benefits of our iconic, premium greens powder, The Super Elixir™ supercharged and tweaked to target and support healthy, glowing skin.
Each capsule contains a powerful blend of more than 15 vital ingredients, including natural greens (barley grass, broccoli, and spinach), antioxidants (pomegranate, acai, green tea) and key skin-supporting vitamins and minerals (Vitamin C, B3, B6, E, copper, and zinc). The formula also includes natural vitamin C from Acerola Cherry, which is easily absorbed by the body and promotes healthy, glowing skin. The Skin Elixir further features a gut blend of turmeric, black pepper, papaya, methionine and aloe to promote healthy digestion.
When taken daily, The Skin Elixir supports:
+ Healthy, glowing skin
+ Skin healing and regeneration
+ Skin firmness and elasticity
+ Reduce free radicals formed in the body