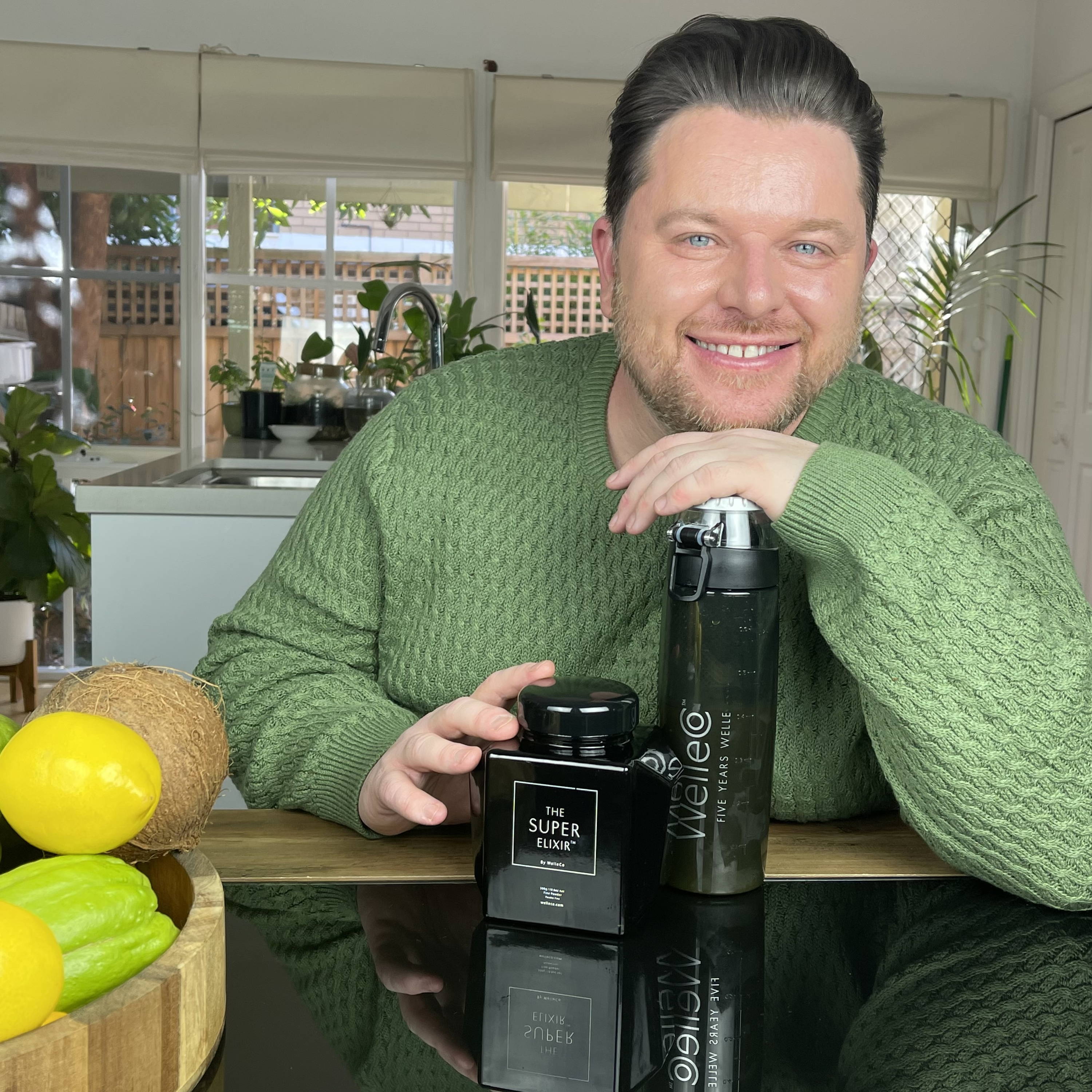 The proof is in the plants! Read on to find out how Jarrad, 43, was changed by his commitment to 30 Days Welle.


Meet Jarrad, 43. Before The Super Elixir™ he was chronically sluggish, uninspired and moody. And then there was that all-too-typical male hair loss.
"As a male of a certain age, when you see hair fall, it's panic stations," he says. "But I noticed a significant reduction in hair fall when I was consistent with The Super Elixir™." That's some result right there!  
Here are the other ways The Super Elixir™ and 30 Days Welle changed Jarrad's relationship with wellness.
What inspired you to try 30 Days Welle?Before starting 30 Days Welle, I was feeling sluggish, tired and moody. Dull in both appearance and inner vibrancy. A 3/10. I had seen success when using WelleCo products before, but I was never consistent. Looking back, it's crazy to think I had the key to vibrancy in my kitchen cupboard the whole time! I just hadn't formed the habit yet.
Tell us about your experience?As someone with ADHD I often lack the bandwidth and executive function to stick to something without getting distracted, but 30 days didn't seem too overwhelming…after all it's just one month on a calendar. It occurred to me that all I had to do was to tick off each day so I signed up. I had finally found something that seemed achievable. I made the program even easier for myself by linking my new habit to an old habit to ensure I remained committed. I am religious when it comes to sunscreen. It's the ONE thing I never forget. So, I kept my SPF with The Super Elixir™ to prompt me. After the 30 days I moved my sunscreen back to the bathroom and today I still never forget to take The Super Elixir™. It helps that it's so aesthetically-pleasing and I can have the caddy's on display in the kitchen.
Did your skin improve?My skin tone evened out. I noticed a radiance and a plumpness. I had an even glow.
Did your energy improve?I noticed I didn't get the afternoon slump and my brain fog lessened.
Did your digestion improve?I did notice an improvement in gut health. I felt less bloated and my digestion improved.
Did your nails and hair improve?As a male of a certain age, when you see hair fall, it's panic stations. I noticed a significant reduction in hair fall when I was consistent.
Have you noticed any changes to your immune system?To be honest, I didn't notice a huge difference in my immune system. But in preparation for my recent vacation, I took The Immune Elixir for three months prior to help prepare my system for travel and airports. I also made a conscious effort to travel with The Super Elixir™ and I felt well the whole time, whereas I've been ill without it the few times I travelled before.
Would you recommend it and why?I'd strongly recommend The Super Elixir™ and I do so vocally. You don't have to do anything drastic and you see many benefits. In no time, you look and feel better. I suggest it to all my friends. It's a small change to your routine for big results.
But the biggest change for me with 30 Days Welle, was the sense of achievement! I had set out to achieve a goal and I achieved it, and I was now reaping all the rewards. And it honestly was not as hard as I ever anticipated it could be. I had formed my habit. I had made huge changes to my lifestyle. And most of all, the snowball effect… If I could make these changes, what other changes could I make and stick to? I am motivated.