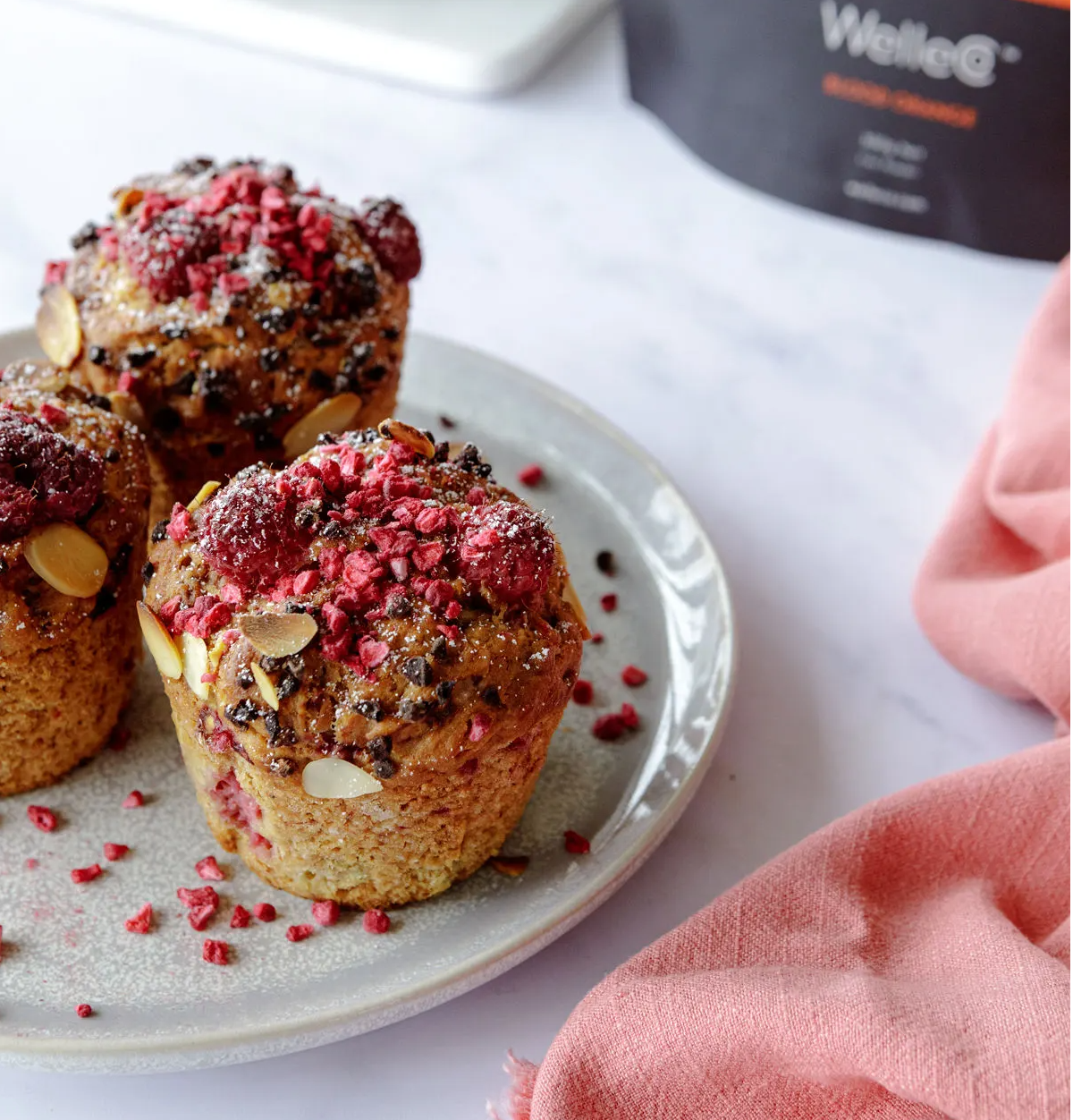 These muffins make a great grab and go breakfast.
Created by WelleCommunity member @karenkoramshai – these muffins are moist from the bananas (yes please!) and deliciously tangy from the raspberries.
INGREDIENTS
3 large very ripe bananas
100 grams coconut sugar
75 ml vegetable oil
2 tsp WelleCo The Super Elixir™ (choose your flavour of choice, we would recommend Unflavoured)*
275 grams gluten free plain flour
3 teaspoons gluten free baking powder
1 teaspoon vanilla extract
150 grams fresh raspberries
1 tablespoon freeze-dried raspberries (optional)
Serves: Makes 6 large muffins or 8 smaller ones
Dietaries: Vegan & GF
METHOD
Pre-heat oven to 180° fan.
Line a muffin tin with paper cases–either 6 large one or 8 smaller ones. In a large mixing bowl roughly mash the bananas with a fork. Add the sugar and oil and mix well.Sieve in the flour, baking powder and vanilla and fold together. Finally, add the raspberries andcombine. Spoon into the muffin cases and bake for 25-30. If you are using the freeze driedraspberries sprinkle over while still warm.
These muffins keep for a day in an airtight container but really are delicious slightly warm from the oven.
Recipe and image credit:@karenkoramshai
*Please note, adding this product to hot or boiling foods/drinks may impact the efficacy of some ingredients such as the probiotics and vitamins.