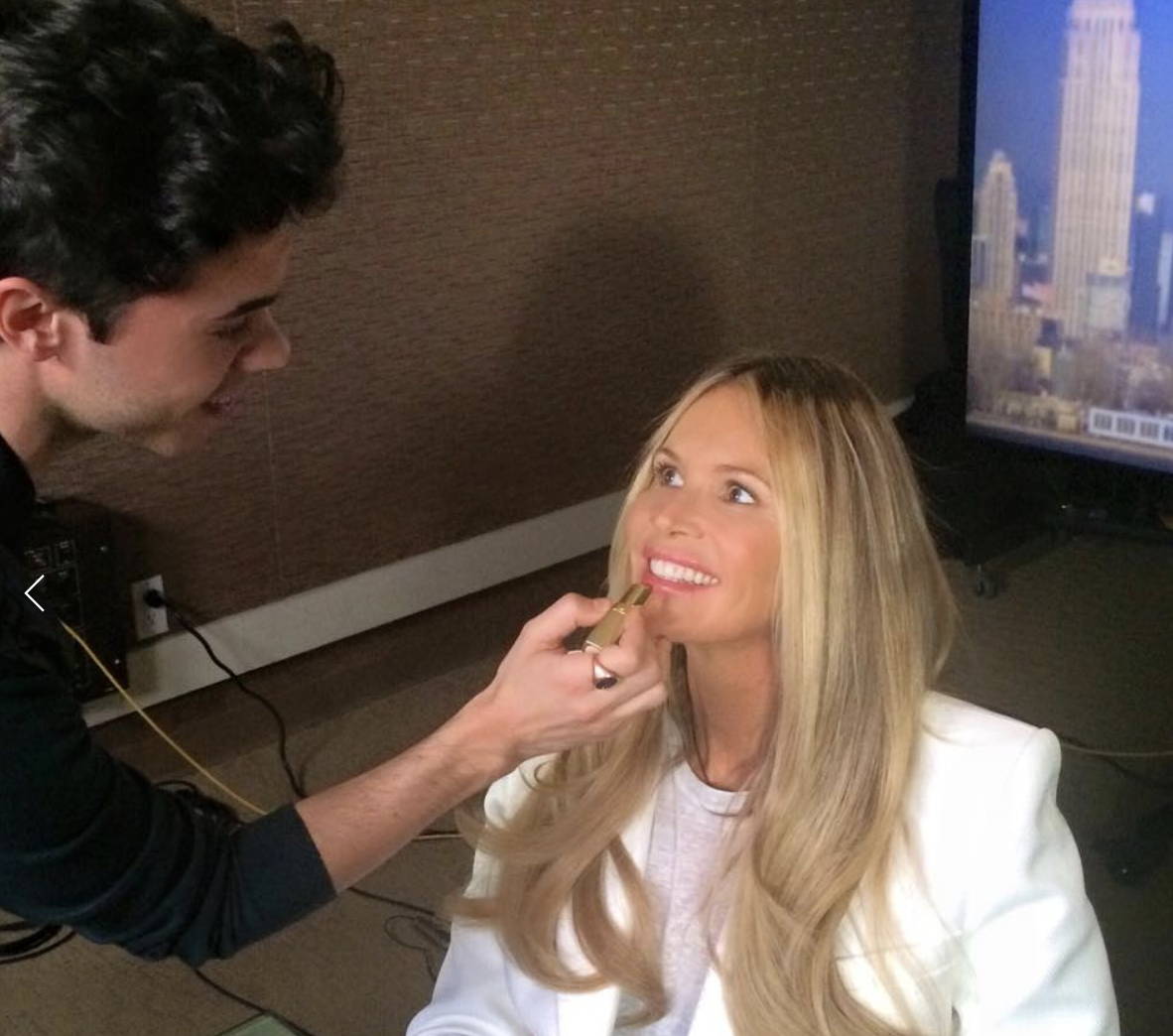 Makeup artist, Neil Scibelli shares Elle's secrets to her iconic golden glow.

The year 2014 sets the scene for many special events in the WelleCo timeline, including the year we were founded and our founder, Elle Macpherson's 50th birthday. It also happens to be the same year Elle met her friend and make-up artist,Neil Scibelli. The pair have been tight since and today, he breaks down how Elle gets that golden glow.
"Ever since our first meeting when Elle was introducing The Super Elixir™ to the world, we just hit it off and I have such beautiful memories of that time. She was literally drinking The Super Elixir during our first makeup session, and I was so intrigued and ended up learning so much from her – about wellness and how outer beauty was a result of that," Neil says.
"One of my first glam sessions with Elle was for her Bloomberg TV Interview in New York City, and we just really aligned on makeup and beauty being an extension of one's wellbeing," explains Neil. "It became obvious pretty quickly my makeup wasn't wearing her - she was wearing it!"
Neil takes us through Elle's everyday natural make-up look, step-by-step so we can follow along.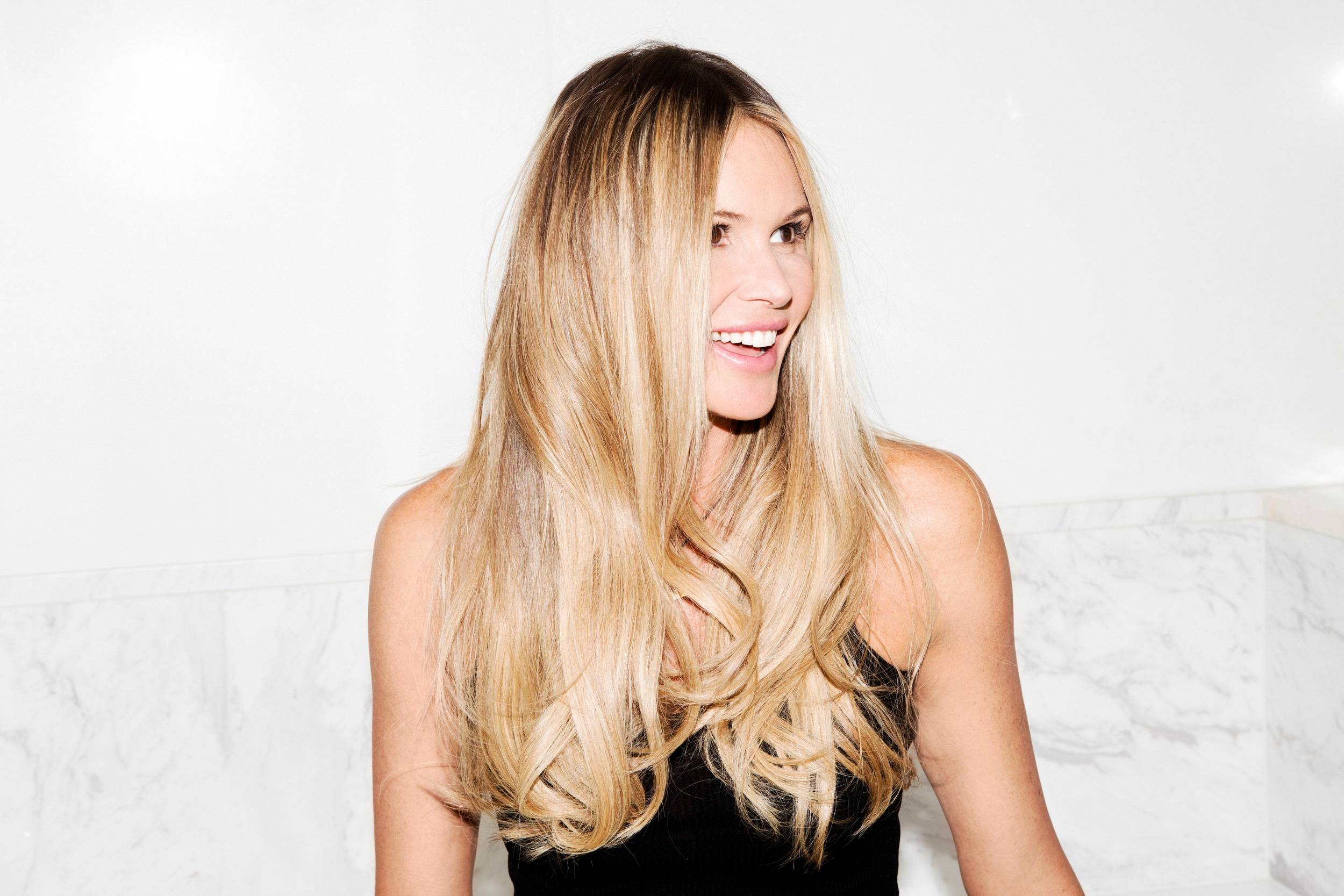 Elle's Glowy Base
1. I always prep Elle's skin with a hydrating mist first, it's so beneficial to awaken the skin - especially when Elle is travelling. I like to press it into the skin with a beauty sponge to ensure it's being well absorbed and sometimes I'll use the same spray as a setting spray at the end.
2. I'll then apply skincare prep, which always includes an eye crème - and for Elle, I like it to have some luminescing particles in it to highlight and create a dewy, radiant glow around the eyes. It also helps concealer to go on smoother and is more natural looking.
3. I'll then apply a hyaluronic acid based serum and a moisturizer to deeply hydrate the skin so that Elle's foundation binds to the skin easily.
4. The final skincare step is to prime the skin with a makeup primer that also has skincare benefits and gives the skin a visible glow. I've been loving the  VB x Augustinus Bader Cell Rejuvenating Priming Moisturizer in Golden because it not only hydrates and soothes the skin, but it also blurs the pores and has a hint of golden pearl in it - which gives the complexion this gorgeous golden glow. It also extends the wear time of any makeup you apply over it, which is ideal for an event day.  
Neil's Toolkit:  
Dr. Sturm Hyaluronic Face Mist  
Natura Bisse Diamond Extreme Eye Creme
Dr Strum Hyaluronic Acid Serum
Victoria Beckham X Augustinus Bader Cell Rejuvenating Priming Moisturizer
Elle's Signature Earthy Eye
1. With Elle, we love to do like a nice natural brow so we use a medium blonde shade that's not overpowering. We like to keep them in the shape that they are, but sometimes we'll fill in the arches, or make them a little bolder.
2. I'll then create a light champagne eye base to open-up the lids, starting with a primer or a matte concealer just on the eyelid to cancel out any natural lid colour. Then, I'll opt for a champagne or a bronzey-gold shadow, ideally with light reflecting properties. I love using shadow crayons for this look, which I smudge out to give that sultry spark to the eyes. We like to keep the eyelid pretty light, especially because we want Elle's eyes to appear bright and open. I would never want to close the eye shape.
3. After that we would use a chocolate brown eyeliner and apply it really thin along the top line, just to accentuate the eye line. It's important Elle's liner is not too thick or it takes away from her natural eye shape and can become overpowering. I then also smudge a chocolate coloured eyeliner just a touch under the eyeline, especially from the centre to the outer edges to define and bring out her eye shape.
4. Then, depending on the event, we'll either curl her lashes (Elle likes to do this herself) or apply some individual lashes. We might do a few single lashes on the middle or towards the ends. We'll finish with a mascara on the top layer, never on the bottom for Elle. Eyes are best done first to preserve the skin from any unwanted product or fall out. It's also always easy to clean up the eyes without too much makeup on the face.
5. Pro-tip: Something Elle taught me to help the eyes pop, (which is a total supermodel secret) is to use a drop of blush or pink shadow in the crease of the eyes to bring out the eye colour and warm up the overall eye look. It's one of my favourite tips that I use now all the time!
Neil's Toolkit:  
Victoria Beckham Beauty Eyewear Longwear Crease-Proof Eyeshadow Stick In Caramel 
Chocolate Brown Eyeliner
Mascara
Elle's Dewy Cheeks and Skin
1. For in person events, I like to go light on Elle's skin with either a tinted moisturizer or a really light foundation blended out. Then we'll go in with a concealer, on any areas that may need additional coverage.
2. Then we get to work on cheeks. Elle loves her radiant bronze glow and we use the infamous 3-shape bronzing method to get there. We start at the forehead and then we do the hollows of the cheeks and then around the jaw, and then down into the neck. So it's your classic bronzer/contour at the same time. As a guide, always go two shades darker than your skin colour.
3. And then, once that's done, we want to give that sheen so that the complexion isn't too flat with just bronzer. Elle loves a dewy finish on the cheeks, so we'll use a cream highlighter and a cream blush which gives that dimension. Elle will smile and then we'll place the cream blush just away from the apples of the cheeks, and then outwards, towards the temples. We apply everything outwards and continue in that manner, so as to keep her makeup looking fresh and bright.
Neil's Toolkit
Jouer Creme Blush Cheek + Lip Duo Uplift
Rose Inc Highlighter Solar Radiance Hydrating Prismatic  
Elle's Watermelon Lip
1. Sometimes we will do like a beautiful watermelon lip or something close to Elle's natural lip colour. She has, like great lip pigment as it is so we simply reinforce that.
Neil's Toolkit
Setting the Look
1. Elle loves to finish the look with a little bit of translucent powder. We'll do a little bit down the centre of her face.
Neil's Toolkit
Gucci Westman Vital Pressed Skincare
Quickfire with Neil
Elle's skin type: Normal to dry.
The type of products Neil uses on Elle:"I like to stay in the clean makeup realm with Elle in line with her preferences and what works best on her skin."
The vision:"From the beginning, we saw eye to eye on a glowy cheek and natural radiant skin -- which has been her signature look and my signature makeup style as well."
Your ultimate skin tip: "The more hydration and skincare prep you give the skin before make-up, the better the makeup really looks. I'm also now totally addicted to the entire WelleCo line, from The Super Elixir to The Hair Elixir -- they're all such a beautiful additions to any wellness regimen."
About Neil
Instagram:@itsneilscibelli
Born and raised in New York City, Neil Scibelli has established himself as one of today's leading celebrity makeup artists and on-air beauty experts in the field. His passion for art developed during childhood growing up alongside his grandfather, a painter, which naturally turned into a booming career in makeup artistry with clients in all genres including iconic supermodels, actors, major recording artists and entertainers, as well as various fashion houses. For over a decade, Neil's work has been seen on New York Fashion week runways, red-carpets, and on national television.
With almost 15 years of experience, sharing beauty education with the public has become a passion for Neil's, which has led to his contribution to several leading beauty media both on-air and in print. He is often seen on-air at Good Morning America on ABC, and regularly serves as a beauty expert to most major digital beauty outlets including Instyle, Allure, Teen Vogue, Well + Good, The Zoe Report and Oprah Magazine