Eat with Me: With Elle Macpherson
Get your fix of wellness and things that inspire us.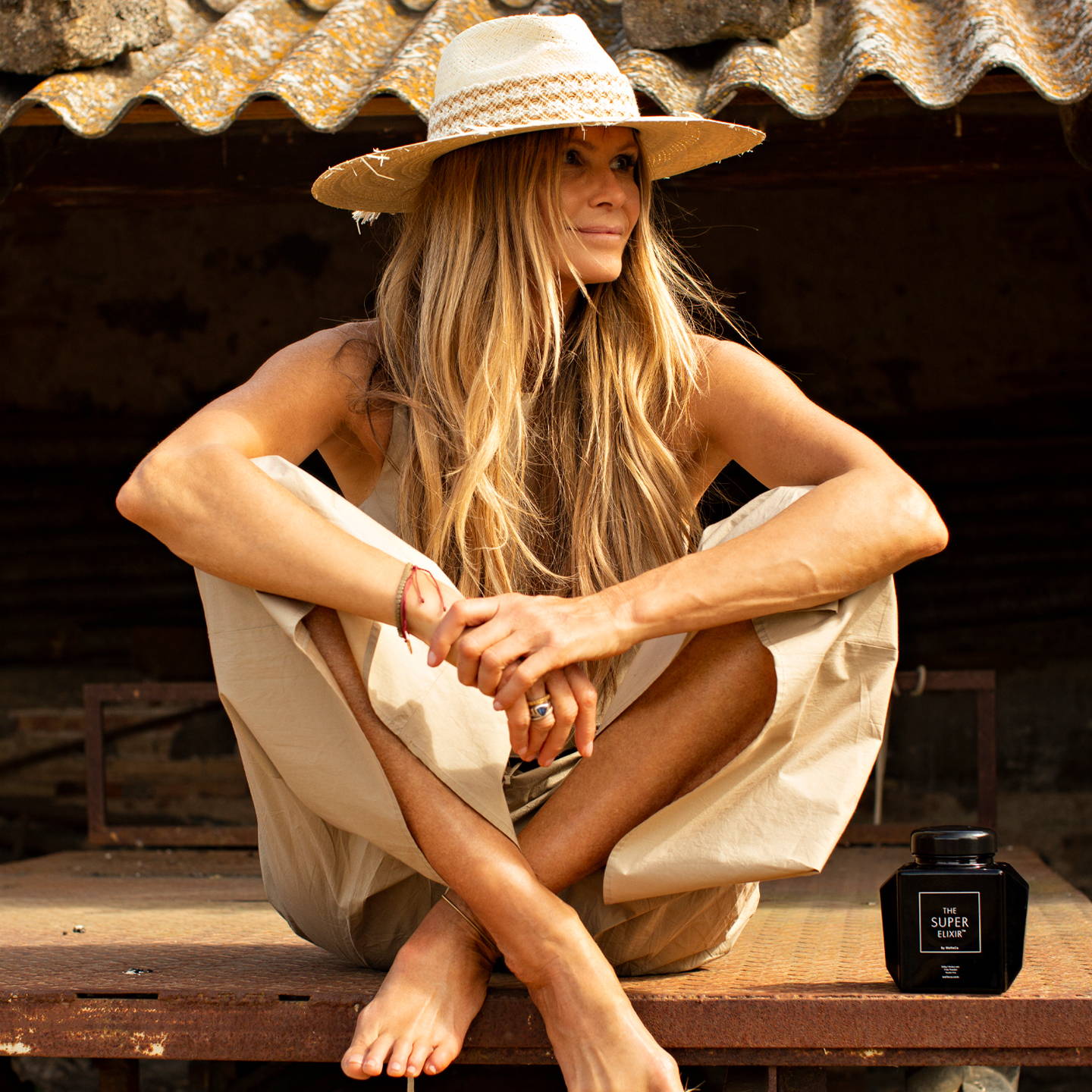 Our founder chats to the team at Dr Sturm about how she fuels that iconic body, mind and spirit.

As a dear friend of Dr. Barbara Sturm's, WelleCo founder, Elle Macpherson has always inspired us with her healthy lifestyle choices, dedication to fitness and her commitment to eating well. We sat down with her to ask which foods, recipes and go-to meals make up her daily diet, the essentials we'll always find in her fridge and how, when she does finally get to switch off, she likes to wind down.
When do you usually wake up in the morning? Can you tell us a little about your routine?
I've become a morning person since having children, so I'm usually awake by 6AM. I really enjoy the quiet at this hour, as it means I can wake up in a peaceful way. I choose to be free from using my phone as soon as I wake up and usually meditate for the first 20 minutes to get myself grounded for the day ahead. I have a thermos of hot water with lemon and ginger beside my bed that I prepare the night before so I can drink it first thing following my meditation. Only then will I have a look at my phone to see what has come through overnight from my team at WelleCo, before I get out of bed for my morning routine. I begin by washing my face, putting in my contacts and applying a layer ofDr Barbara Sturm's SUPER ANTI-AGING SERUM andFACE CREAM RICH to hydrate my skin for the morning. I'll do a more extensive skin care routine after my shower - always using Dr. Sturm products.
Do you eat breakfast? If so, what is your go-to?
In the mornings, I kickstart my system with a wheat grass shot and green vegetable juice followed by a huge scoop ofThe Super Elixir™ greens in cool water. Then at around 11AM I'll have breakfast, which is usually one of my homemade chia puddings, yoghurt or I'll blendWelleCo's Nourishing Protein in Chocolate with homemade almond or oat milk for a delicious protein shake.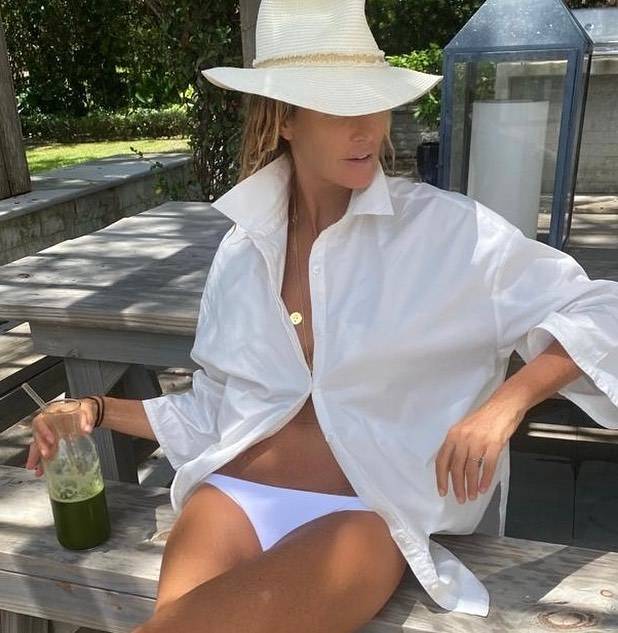 When and how do you recommend using the WelleCo Super Elixir?
I use it for hydration. I love the blood orange flavour at the moment but constantly mix it up as we now have four flavours. I fill my WelleCo Hydrator Bottle to the top with cold water, add a big scoop of greens (it's probably more of a double dose) and have this before I eat my breakfast.
Can you share one of your favourite recipes for a healthy, easy lunch?
Before every meal I prime my gut with a teaspoon of Ion Biome, which also helps me feel focused with clarity of mind. For lunch, one of my go-to meals is a big bowl of nourishing green goodness. I'll take a handful of natural organic pea sprouts with another handful of natural organic sunflower sprouts, then add a pinch of broccoli, some alfalfa sprouts and half an avocado. I drizzle a mix of lemon juice, avocado and coconut aminos, otherwise I enjoy a tahini dressing – manuka honey, apple cider vinegar and a handful of sprouted seeds over the top.
What will we always find in your fridge?
In my fridge, I always have Suja Juices and homemade almond milk and oat milk on hand. I snack on raw activated nuts such as brazil, almond, walnut, coconut yoghurt, my homemade chia pudding, as well as my homemade raw tahini, nori crackers from the dehydrator and vegetable sticks with hummus. I also save time by preparing bags of vegetables and sprouts for juicing. Then there's my son's fridge which is a different story – think eggs, muffins, wine, meat, beer, crumbed chicken, and Oreo cookies.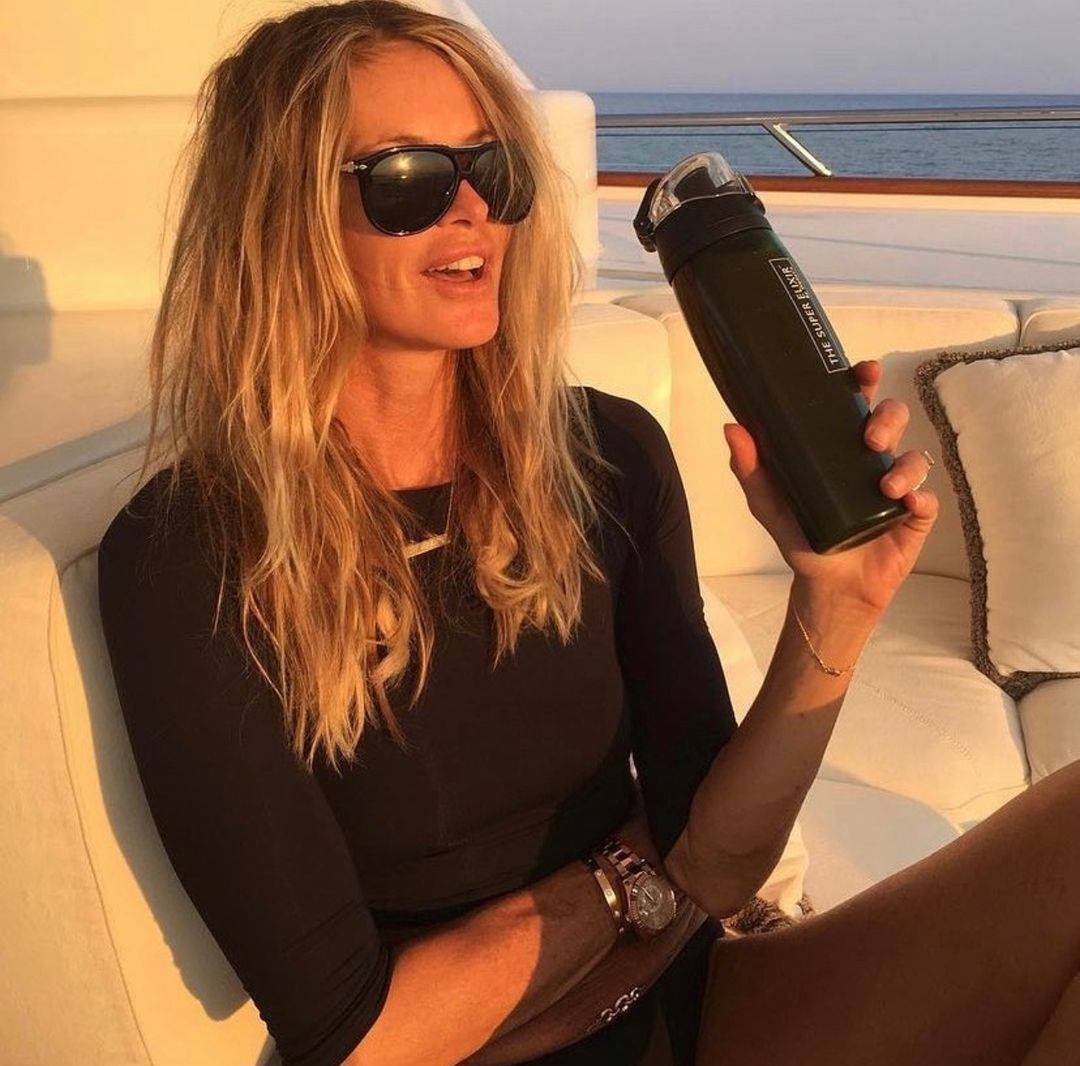 Are you mindful about where and how you shop for produce?
I shop seasonally and locally for organic, raw food at the farmer's market. I believe in supporting local businesses and I know the microbiome works best when we eat according to what is available to us in each season. I shop at The Coconut Grove Farmers Market, but my favourite is Paradise Farms, which is located at Sacred Space in Miami.
If you eat out, what are your favourite restaurants to visit?
I love to eat at home but if I do eat out, I try to look for restaurants that have organic food. I love raw vegan food which isn't easy to find when you're eating out, but there are a few great options like Planta in Miami. For a cosier European atmosphere, my absolute favourite is Casa Tua Cucina in Miami. I love KYU for Asian fusion in Wynwood, DOYA for a Mediterranean hit, or I head to Makoto in Bal Harbour for sushi. When I visit London I go to Scott's in Mayfair for fine dining, or if I'm after a casual breakfast in Sydney, I love Speedos in North Bondi.
Do you snack throughout the day? If so, what are your favourites?
I snack onWelleCo's The Super Elixir™ andNourishing Protein in Chocolate or Vanilla. I'll often blend half an avocado left over from lunch with the Chocolate protein and water, which makes a delicious, healthy chocolate mousse. I also love Dr. Laubscher's favourite snack, which is a scoop of thevanilla protein, with a scoop ofThe Super Elixir™ and almond milk. Just blitz it all together in a Nutribullet and you've got the perfect 3pm snack!
Your ideal dinner for the entire family?
Any dinner where the entire family is present! Haha!
What about dessert? Do you have a sweet tooth?
I do have a sweet tooth, but thankfully havingThe Super Elixir™ andNourishing Protein each day has really curbed my sugar cravings. If I am at a restaurant and it's a special occasion, I will usually opt for anything on the menu with chocolate. I also love vegan ice-cream, and I have a soft spot for Miami's key lime pies.
Do you have a favourite cocktail/mocktail or drink?
I've been sober for 18 years, so I go for a virgin mojito if I am out and about.
How do you like to wind down in the evening?
Laughter is the best stress reliever, so I tend to laugh a lot surrounded by friends and family that enjoy life and love. That's the best part of my day!
I often find myself late at night winding down in my portable infrared sauna by Therasage for an evening detox, followed by a hot and cold shower to stimulate my lymphatic and immune systems. I then make myself a cup ofWelleCo's Sleep Welle Calming Tea to relax and quiet my mind before bed while I journal. I usually write down the things that made me laugh, what I learned and what am I grateful for each day – it's all very short and sweet, but it's therapeutic for me to end the day with a positive mindset. I believe that what you focus on, you therefore magnetise in your life, so before I fall asleep, I concentrate on the things that are really valuable to me and let go of everything else that doesn't warrant my energy.
Originally published atDr Sturm.