Chocolate Brownie Cookies
Get your fix of wellness and things that inspire us.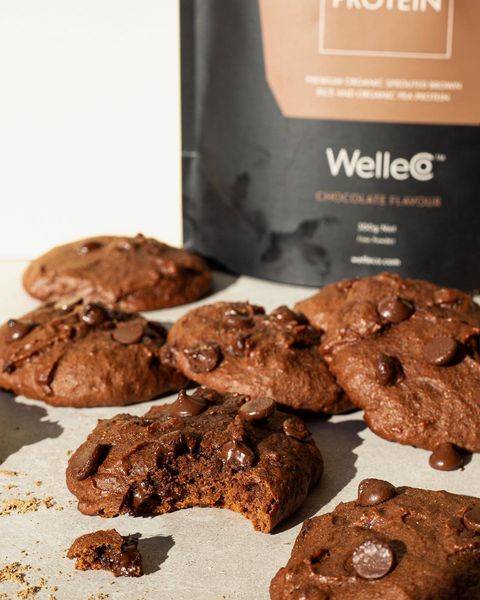 The yummiest chocolate fudge brownie cookies you will ever eat.
Created by WelleCommunity member @foodtowellness – these truly are the most delicious chocolate brownie cookies you will ever have. With a little protein added in, these yummy treats are even vegan and gluten free (yay!).
INGREDIENTS
1 cup of plain flour (gluten free)
1 1/4 tablespoon of cocao powder
1 scoop of WelleCo Chocolate Nourishing Protein Powder
1 teaspoon of baking powder
3/4 cup of apple sauce
1/4 cup of light brown sugar
1/4 cup of coconut sugar
1 tablespoon of coconut oil
1 tablespoon of almond butter
1/2 cup of dairy-free dark chocolate
80g of dark chocolate chips
Dietaries: Vegan & GF
METHOD
Pre-heat oven to 180° C and line two baking trays with baking paper.
In a bowl add flour, cocao powder, protein powder and baking powder and stir together until combined. In a large mixing bowl, add in the apple sauce, light brown sugar and coconut sugar. Whip together for 2-4 minutes until the apple sauce is smooth and pale in colour (suggest using an electric mixer).
Place the coconut oil, almond butter and dark chocolate into a saucepan on low heat. Gently simmer until all ingredients have melted (make sure to not overcook). Slowly pour the melted mixture into the wet ingredients and mix well until completely smooth. Slowly add in the flour mixture and fold in. The mixture will resemble brownie batter. Add in the dark chocolate chips.
Using a small ice-cream scoop or two dessert spoons, scoop a golf ball size amount of batter and place onto the lined baking trays. Make sure to leave about a 3-inch space between the cookies as they do spread out whilst baking (work fast with this step as the batter will firm up when standing at room temperature for too long).
Bake the cookies for 10 minutes. After 10 minutes, rotate the baking tray and bake for a further 5 minutes then remove the trays from the oven.
For more chocolaty goodness, while the cookies are still warm, add some chocolate chips on top of each cookie. Allow the cookies to cool for 10-15 minutes on the baking trays before serving
Recipe and image credit: @foodtowellness
*Please note, adding this product to hot or boiling foods/drinks may impact the efficacy of some ingredients such as the probiotics and vitamins.