WelleCo named 'Best Wellbeing Brand'
Get your fix of wellness and things that inspire us.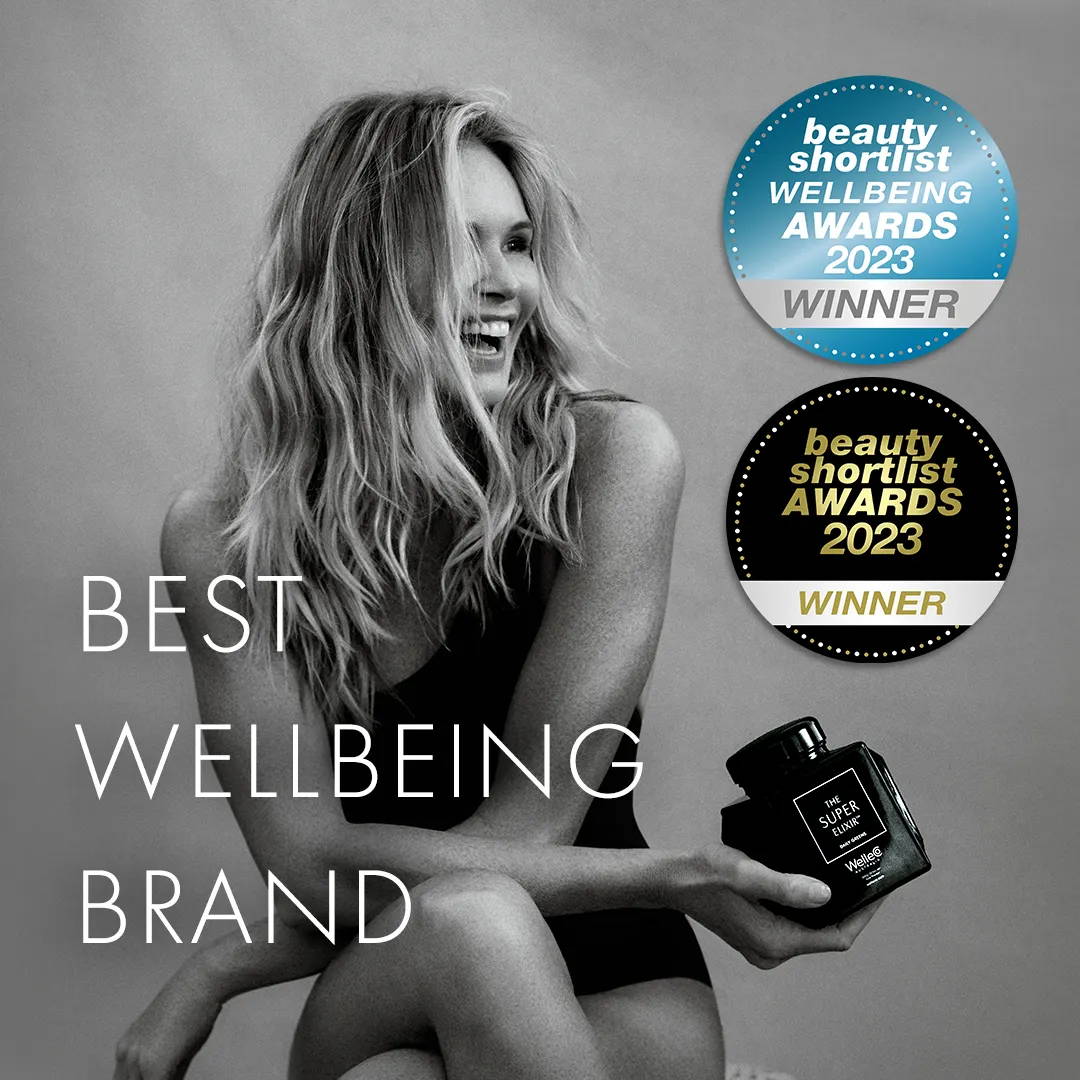 WelleCo most award-winning brand in the 11-year history of The Beauty Shortlist Awards.

WelleCo is thrilled to announce we have received an astounding 19 awards at The Beauty Shortlist Awards + Beauty Shortlist Wellbeing Awards 2023, including the coveted title of 'Best Wellbeing Brand'and accolades for six of our elixirsacross 16 categories.
As the most award-winning brand in the 11-year history of The Beauty Shortlist Awards, WelleCo is delighted to include these accolades in our total of 34 industry awards received in just 18 months.
In addition to 'Best Wellbeing Brand', WelleCo also took home 'Best Natural Health Brand' and 'Best Gluten-free Wellbeing Brand'.
Our iconic super greens, The Super Elixir™ received five awards including 'Best Supergreens' and 'Best Wellbeing Product' while our newer elixirs were also recognised with The Immune Elixir winning 'Best Immune Boosting Supplement' and 'Best Product to Prevent Colds and Flu'. The Goddess Elixir receiving 'Best Supplement for Menopause'.
The Beauty Shortlist Awards launched in the UK in 2012 to spotlight and support stand-out natural, ethical and sustainable brands. The awards celebrate the brightest new beauty and natural health launches, alongside already well-established brands and products across both beauty and wellbeing.
The Super Elixir™ is our foundation product, with a loyal global following. These iconic all-in-one greens supplement is blended with over 40 powerful botanical herbs, antioxidants, vitamins, minerals, and probiotics that help support all 11 systems of the body. Two teaspoons daily in water is all you need to ensure your body receives the nourishing goodness of premium nutritional greens, for clear skin, more energy, improved digestion and stronger hair and nails.
The Super Elixir™ was awarded the following accolades:
BEST WELLBEING PRODUCT
BEST NUTRITIONAL PRODUCT
BEST GLUTEN-FREE WELLBEING PRODUCT
BEST PLANT-BASED HEALING PRODUCT
BEST HEALTH TONIC
BEST DETOX SUPPLEMENT
BEST SUPERGREENS
The Hair Elixir thickens, strengthens and nourishes right down to the follicles to minimise hair loss and reduce breakage, while encouraging the formation of keratin and boosting your body with powerful minerals and adaptogens to fast-track growth.
The Hair Elixir won the following awards:
BEST SUPPLEMENT FOR HEALTHY HAIR
BEST SUPPLEMENT FOR HAIR REGROWTH
The Skin Elixir is a powerful vegan blend of natural greens and skin-supporting ingredients in a convenient, bioavailable capsule for a healthy glow from soul to skin. Taking inspiration from our iconic premium greens powder, The Super Elixir™, The Skin Elixir is designed specifically to support a clear, glowing complexion in supercharged, on-the-go vegan capsules that are non-GMO, gluten and dairy-free.
The Skin Elixir was recognised in the following categories:
BEST BEAUTY SUPPLEMENT
BEST SKINCARE SUPPLEMENT
BEST SKINCARE PRODUCT – INNOVATION (oral/supplement)
The Collagen Elixir is a supercharged blend that contains 3.5g of the highest grade marine collagen peptides from wild-caught fish, without the fishy taste. The sustainably sourced marine collagen works in synergy with vitamin C, hyaluronic acid, silica and digestive enzymes for a powerful formula that supports glowing skin, strong nails, thick hair and a healthy body.
The Collagen Elixir won:
BEST SUPPLEMENT FOR HEALTHY SKIN, HAIR & NAILS
Boost your body's natural defence withThe Immune Elixir. Formulated for pre-emptive and reactive effectiveness, this powerhouse blend of zinc, natural vitamin C, astragalus, olive leaf, elderberry and reishi mushroom helps support a healthy immune system and relieve symptoms of the common cold. Plant-based nourishment for you to thrive all year-round. Master your beauty-through-wellness journey with The Immune Elixir.
The Immune Elixir was recognised for:
BEST IMMUNE-BOOSTING SUPPLEMENT
BEST PRODUCT TO PREVENT COLDS OR FLU
Revitalise your core feminine from the inside withThe Goddess Elixir. These convenient, vegan capsules support you through every stage of menopause - perimenopause, menopause and post menopause - by providing vitality, balance and clarity in every phase of your body's wonderous regenerative process. Replenish your passion for life with this proven blend of red clover, chasteberry and Siberian ginseng, while nurturing your inner calm with magnesium and hops. Take just 2 capsules daily to enjoy the vibrant, fulfilling life you long for.
The Goddess Elixir was awarded:
NEW: BEST SUPPLEMENT FOR MENOPAUSE (drink/powder)
WelleCo considers it our responsibility to provide award-winning beauty-through-wellness to our WelleCommunity so you can grow into the very best version of yourselves and, in doing so, contribute to the greater good of our entire world.