Elle Macpherson: Invisalign at 59, my $28 skin secret and what I eat in a day
Get your fix of wellness and things that inspire us.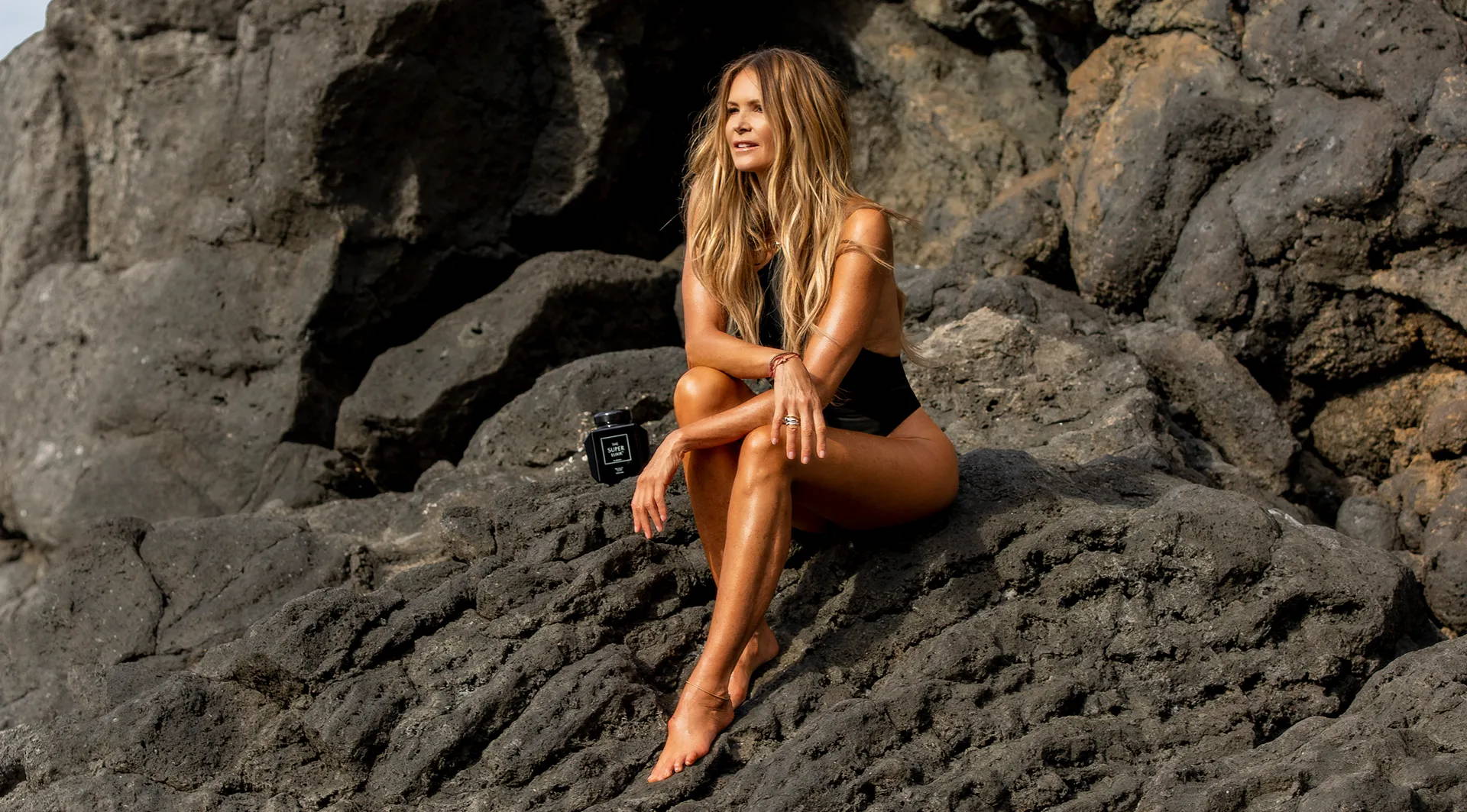 Our founder shares her supermodel body secrets with Get The Gloss and explains why she feels better now at nearly 60 than she did in her forties.

In 1986, I became 'The Body', a term coined by Time Magazine. Though a little daunting, it reflected to me the value of my efforts to excel at what I do. Since then, I've been on a constant journey with my body, learning what truly resonates with it, through trial and error. I've gone from believing wellness is fitness, to feeling totally burnt out, to coming to the realisation that wellness is at the heart of all beauty.
It took me a while to appreciate my own sporty, Amazonian body in a modelling world of tiny girls. Once I leaned into my own uniqueness, my career took off.
I'm nearly 60 and I feel better in my body now than when I was in my forties! But it's been a journey.
Early on in my career I associated wellness with fitness. I used to spend hours in the gym working out, honing 'the perfect body' because that's what I thought I was supposed to do. I came to understand the true strength and beauty of my body through pregnancy and the incredible changes my body made to accommodate another life.
The fact that I also gave birth naturally and breast fed showed me that the body, in and of itself, is so magical and no amount of 'training' at the gym can ever match the mystery of pregnancy and childbirth. I then realised that true health and wellbeing was far more than just working out and required a different approach - starting from the inside.
By the time I was 50, I could no longer rely solely on my genetics for a healthy body. What once worked for me in my thirties and forties no longer did. I felt run down and irritable. I wasn't sleeping well, I had no energy to exercise, I was consuming too much sugar and coffee and I felt uninspired and unmotivated. At a loss as to how to feel better, I went to see nutritionist Dr. Simone Laubscher PhD at her London clinic. She explained to me that I was malnourished, acidic and inflamed. She described to me the importance of an anti-inflammatory body. She then created a potent nutritional greens protocol for me.
After just a few weeks combining the greens with other life-style changes, I was feeling better than ever. The quality of my skin, hair and nails improved, sugar cravings reduced, and I regained my sense of vitality. I felt stronger and leaner with more energy. I realised that when my body is in balance, all the rest falls into place: weight, hormones, sleep, strength. It takes gentle but consistent changes. Now I'm almost turning 60 and I feel better than ever – more beautiful, vibrant and connected to my sensuality - naturally.
I started WelleCo so I could share my wellness discoveries by offering to the world the same elixirs and solutions that helped me repair and flourish in my own life.The Super Elixir™ greens ensured I received all the nutrients I needed to function optimally. It also helped my digestion no end and stabilised my weight.
When I couldn't eat well due to my schedule or travel, I needed something to help me go the distance until my next meal. Our second release wasNourishing Protein and I knew I could rely on it because it had been formulated with the most clean, natural, quality nutrients available. It's a true supermodel secret!
Diet and exercise – what works for me now
And while I don't condone skipping meals or doing anything that harms your body in any way, I do advocate making wise, nutritious, self-caring choices. Given my career, I can't deny that weight was, and is, important in my line of work, but even then, it's just one part of the picture. It's so individual – it is not a one-size-fits-all issue. And just because a protocol works for me, does not mean it works for everyone.
These days, I am a lot less intense about my fitness routine. In fact, I don't have a fixed routine at all. I swim when I can, ride my bike and walk. I was recently in Tokyo and walked everywhere for hours, exploring, discovering and in total awe of the magic there. It's a great way to get around and get to know where you are and see things you're never usually see if driving.
My diet has changed a lot over the years. I used to eat out at restaurants, both for food and atmosphere, but now I love to eat organic, nutrient-dense meals at home. I love to be in the kitchen with my man [musician Doyle Bramhall] - we chat, listen to music and prepare delicious, simple meals together (he's more creative than I am in the kitchen). For me, these days, food is very much a celebration of life.
I also no longer look at food in terms of 'portions or 'intake'. I nourish my body each and every day, in different ways, always paying attention to my body's needs. There's no formula or equation to meet a certain goal. I do, however, find my body works best when I intermittent fast in the morning.
What I eat in a day
I start the day with lime water hydration (with a little Celtic Sea Salt). I'll then have an oat milk matcha, which includes ceremonial matcha, bee pollen, cacao and perhaps charcoal. I'm very specific about foam - I love it when it's rich and frothy. I'll enjoy that in the morning sunshine.
I take myThe Super Elixir™ greens (Blood Orange flavour typically) and The Goddess Elixir, The Hair Elixir and The Skin Elixir around midday.
I usually eat my first meal – vegetarian - around 2pm and then I eat another plant-based meal around 6pm. I prefer to eat early, and I love soups such as pho in the evening. I'll always have some dark chocolate after dinner as a little treat.
Ultimately, I don't recommend restrictive diets or long hours at the gym. Gentle, simple, clean healthy living, lots of sleep at night, meditation and quiet time in the morning, sunshine, fresh air and laughter are important because it works.
Continue reading Elle's column over atGet The Gloss.