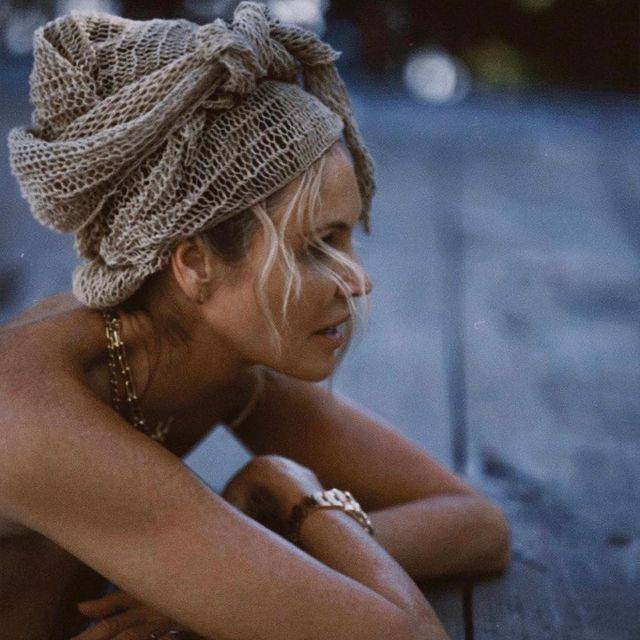 Founder of Joey Scandizzo Salon, co-founder of Eleven and all-around hair genius, Joey Scandizzo joins us to celebrate the arrival of The Hair Elixir and The Collagen Elixir at his salon. The master hair stylist behind Melbourne's top manes weighs in on nineties hair, the importance of nutrition for healthy hair and how to get (and keep!) good hair days.
What inspired you to stock WelleCo?
I have worked with Elle in the past and have always been a fan of her products, but it was after Jane had the boys she noticed a real change in the condition and thickness of her hair, and started to experience hair loss, that's why she turned to WelleCo. More recently, in the salon we noticed a rise in clients with hair loss, and while topical products can help, we wanted to address it from the inside, out, knowing that essentially, that's where the issue begins.
What do you think is causing hair loss in your clients?
It's certainly more common for women who are pregnant, or post-pregnancy to experience hair loss. However more and more we are seeing it pop up with the effects of Covid, stress and when the climate changes between seasons.
Have your staff tried The Hair Elixir and what are their observations?
They've jumped on the bandwagon since ranging the collection and are converted! Some of the stylists have had results quicker than others, but ultimately The Hair Elixir supports hair growth, thickness and strength whilst also maintain healthy hair follicles which is key for fresh hair.
This is a fun one...If you could have free rein on Elle's hair what would you do?
Her hair is her thing so I would not want to change it! Ultimately though, she really could handle anything, and if I truly had free rein, I would lop it off! Take the length off, up to her shoulders or just above, making sure to keep that signature, beachy vibe. 
I have my scissors ready for when she is next in Melbourne!
The nineties blow wave is having a moment (in fact you did one for us on your wife Jane and it was incredible!), can anyone pull this look off?
The nineties are back baby! It's all about about big, bouncy beautiful hair. You do need some length though to pull off this big wave, and having healthy, luxurious hair is a huge factor as well. WelleCo's The Hair Elixir can help with this because to get this look, you really do need to have really healthy, strong, thoroughly conditioned hair. Clean sharp ends are also essential - no ratty ends!
Are you pro hair slugging (aka. sleeping with conditioner)?
I can assure you there are a lot of better ways to condition your hair!
What's your foolproof de-knotting hack?
Make sure you shampoo and condition, leave your conditioner in, and comb out as many knots as possible while the conditioner is in. After rinsing out use 'Detangle My Hair' by Eleven Australia, and brush through to remove remaining knots. Voila!
What hair trends are you seeing this year globally?
We are seeing a return to clean and polished styles. Layers have returned to frame the face and bounce and body is back – classic nineties.
We've found a new respect for the butterfly clip lately and that classic piled-up Brigitte Bardot mess, any tips for this perfectly undone look?
You will always need foundation products in your hair to achieve this 'perfectly undone' look to create grit and texture before twisting up into the butterfly clip. Unfortunately, hair that is flat and fine will not work as well with this naturally messy look.
How can we recreate the so-now nineties blow wave at home?
Load the hair with Miracle Hair Treatment as a foundation. From there, use I Want Body volume foam by ELEVEN Australia for some body and grit.

Blow dry hair using a round brush, section by section.

After that, set the hair in velcro rollers and let it cool down. Once cool, take out the rollers and use a soft brush through the hair. Once you have created your shape, finish with Give Me Hold flexible hair spray and you'll have an amazing bouncy blow wave.
There are so many new hair tools out there, what do you class as the essentials in your hair kit?
It's important to have a soft brush and a round brush plus a hair dryer and heat styler. The GHD Helios hair dryer makes the job easy and the Dyson Corrale straightener is great for curling and straightening or even creating bends in your hair.
Undone waves are having (another) moment. How can we secure these so they don't drop through the day?
It's important to begin with healthy hair and The Hair Elixir is a great place to start. Then you want to use the right foundation products to load up your hair when you're styling. Something like the Sea Salt Texture spray or I Want Body volume foam by ELEVEN Australia. Anything that's going to give the hair some grit and volume.
'Sparkling Brunette' is apparently hair colour du jour. Who does this work best for and how long does it take to achieve?
For this look you're best seeing your hair colourist for the right advice. You must match this look to your individual skin tone and note that it doesn't always work for every skin type.
Do silk pillowcases work and if so, why?
Yes they're great! Especially for anyone with brittle or damaged hair. It stops hair friction while you're sleeping and stops your hair getting matted and knotty overnight. They keep your hair silky smooth, highly recommended!
Does brushing wet hair really cause breakage?
Yes it can, depending on your hair type. If you do need to brush your hair wet, make sure it's not dripping wet and use leave in conditioner or detangling spray.
Does cold water really close your hair cuticles?
Yes! It's part of my daily routine. I always use cold water after washing my hair in the morning. It seals the cuticles and leaves your hair healthier and shinier.
Elle has been known to wash her hair with beer for shine…Recommend?
I've never tried it myself and we don't use it at the salon as the beer in the salon fridge gets drunk before it has a chance to get near anyone's hair! But if Elle says it works then give it a shot, her hair is always amazing!
The idea that hair can be influenced from the inside, like we do with the WelleCo The Hair Elixir, is a new idea to most. Do you think women are starting to think more like this and if not, why should they start?
I think people are generally really starting to think this way, because it makes so much sense. More and more people are coming into the salon asking about WelleCo, because they have seen the results first and through family and friends. We're also seeing great results here at the salon, and it's been amazing to see the confidence women feel when they love their hair. Overall, we've been receiving amazing feedback on this inside-out approach to hair health.
*Always read the label and follow the directions for use.