Elle's Hair Edit
Get your fix of wellness and things that inspire us.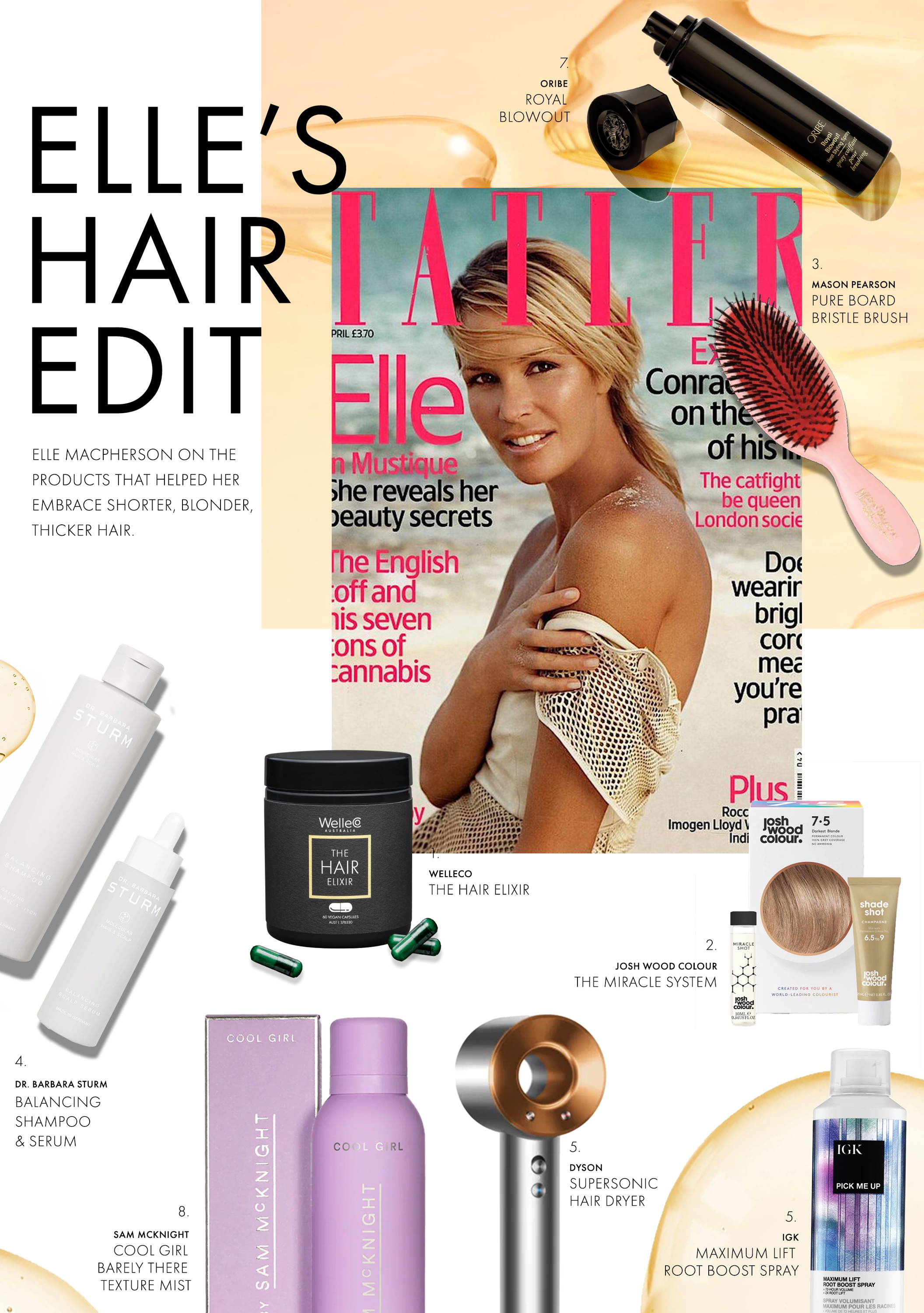 Our founder Elle Macpherson on the products that have helped her embrace shorter, blonder, thicker hair.

"My golden-blonde, '70s-style hair had become my calling card over the years. I have naturally fine hair, but lots of it and I've always felt more confident with my hair longer and in my face. Although admittedly, at times it's been too long, too full, too much!
Nowadays, I'm embracing shoulder-grazing feathery blonde without extensions — it's a look I haven't had the confidence to wear since 2006 — part surfer, part rock and roll. I love the freedom of it."
Love, Elle

ELLE'S HAIR EDIT
2. Josh Wood Colour, The Miracle System
3. Mason Pearson, Pure Board Bristle Brush
4. Dr. Barbara SturmBalancing Shampoo and Serum (My boys swear by theAnti Fall Shampoo and Serum.)
8.Sam McKnight Cool Girl Barely There Texture Mist
ELLE'S HAIR CARE QUICKFIRE
Hair signature? Natural, sexy, rock-n-roll vibe
Pin straight or wild and wavy? My natural hair is stock straight! I prefer wavy all the way! My hair is happiest post-sea.
Biggest hair disaster? I got my hair stuck in a brush while blow drying and it took a day to get it out! And once I got chewing gum stuck in a huge clump of hair and we had to cut it out leaving strange, asymmetrical layers.
A good hair day for me means my hair is…Natural and nourished.
My recipe for feel-good hair is…Good sleep, a balanced diet, exercise, great clean hair products like Dr Sturm'sMolecular Hair and Scalp Collection and a little ingestible beauty.
Healthy or unhealthy? Generally, I've enjoyed healthy hair. However, it has been damaged through years of modelling. I've put it through hell and back. I've noticed that when my nutrition is good, sleep is good, cortisol levels are low, it really boosts the quality and the thickness of my hair.
Surprising hair trick that works? Washing with a beer!
Hair in the sun? In summer, it's all about moisture packs and my hair tucked-up in a hat.
Hair in a snowstorm? In winter, I'm usually in braids so it doesn't fly away while skiing.
Hair inspirations?Margot Robbie
Fave hair guru down under?Back home in Australia, I go to the Joey Scandizzo Salon. Joey has this magnetic energy, passion for making you look and feel your best and knows how to enhance your face shape with the perfect style, which for me means groomed and sexy.
The information in this article is not intended to be taken as medical advice. We recommend consulting your Healthcare Professional for advice on your supplement routine. Always read the label and follow the directions for use.
Read more about Elle's hair journey over atGet the Gloss.